Message Board | BWPL Archive | |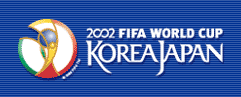 Last updated 30/6/2002 5:00pm BST
Almost nothing in the 2002 World Cup went quite the ordinary way, so why would it when it comes to the winner of the BWPL World Cup Competition...?! We have two contestants each for the first 3 places and rather than selecting one by the drop-out stage of their *winning teams* I have decided that there will be joint winners.
The prize for 1st place is the video of the 1966 World Cup Final, England v. West Germany. As we've only got one copy this goes to the player who is listed first in the table. The second holder of first place will receive a video of the World Cup Qualifying Match Germany v. England.
To claim your prize please send an e-mail with your postal address to :









To

ForEverton* and TomOB*


WINNERS of the 2002 WORLD CUP COMPETITION

*

Many Congrats also to Runners-Up...

BLUE HOMBRE and BRUSSELSBLUE in Second Place

and

AMY GRAVESEN and GEORDIE BLUE in Third Place

Well done !!!